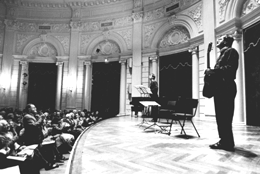 Koninklijk Concertgebouw Amsterdam
Giuliani Duo
Kees Buskes / Erik Pullens
Thirtieth anniversary May 2012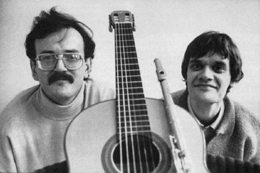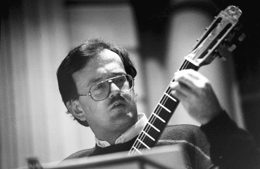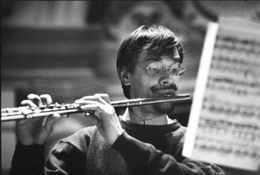 Kees Buskes, born in Venlo in 1954, and Erik Pullens, born in Waalwijk in 1950, started at te same time their studies at "Het Brabants Conservatorium" in Tilburg in 1981. Erik studied with Stanley Noordpool and thereafter with
Baltazar Benítez
. Kees with
Hannie Barendrecht
. Soon they felt attracted to each other in a musical way. The first duo-playing dates from 1981. Since 1982 they did play already in concerts together. The name Giuliani Duo was chosen at the audition for the project "Muziek voor een Piek", organized by "The Buma Foundation". So the duo is named after the composer Mauro Giuliani (Wenen) who wrote many pieces for flute and guitar at the beginning of the 19th century. For a few years "Het Nederlands Impresariaat" programmed Het Giuliani Duo for their concerts.
The duo did perform, among others, in the theaters Concertgebouw, Koepelzaal, Waalse kerk (all in Amsterdam), Schouwburg van Vlissingen, Schouwburg van Maastricht, music-school Venlo, POC Eindhoven and De Doelen in Rotterdam. The duo was a well received guest in many churches and museums in the Netherlands. Het Giuliani Duo undertook numerous concert-journey's to France and Italy. Also the duo was broadcasted by BBC, RAI, Veronica, NCRV, NOS, AVRO en ROZ. Het Giuliani Duo was one of the first ensembles that played live classical music in a very popular broadcasting-program called "Met het oog op morgen". The duo performed as well in the radio4 program "Für Elise" in the "Spiegelzaal" with works by Doppler. By means of master-classes and concerts the duo participated in the festival "de Fluitvierdaagse" from 1993 till 1997.
In 1986 the duo edited two cassettes with music from, among others, Heitor Villa-Lobos, Theobald Böhm, Onorato Costa, Franco Margola and of course Mauro Giuliani.
Erik plays on a Bernabe guitar from Madrid since a few years. Kees plays on a golden Haynes flute from Boston since 1986. The rich colors of the instruments flow very well together. Also one can say a double golden jubilee.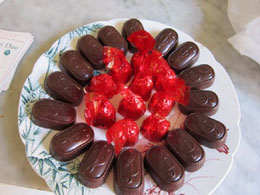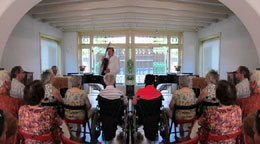 The lovely greek specialties were prepared and served on Sunday by the Greek cook Lakis Zachos at the honor of the Greek composer Onorato Costa.